The Callaway Apex 21 Irons features a body forged from 1025 carbon steel for a soft feel and a thin, forged stainless steel cup face designed using artificial intelligence (AI). Moreover, Callaway started developing driver faces using artificial intelligence three years ago. AI was used to create the faces in last season's Mavrik irons. However, this is the first time Callaway is bringing artificial intelligence to forged irons. In addition, supercomputers ran thousands of simulations to determine how each face should be made, with different parameters for each club. Hence, the long irons are made to enhance distance and forgiveness, while the short irons concentrate on spin consistency and control.
New Golf Clubs Reviews have analyzed the Callaway Apex 21 Irons and believe they deliver great performance. The internal tungsten weights also lower the center of gravity and encourage higher ball flight in the Apex-long irons. In brief, this helps golfers hit higher-flying, softer-landing approach shots, which is what most amateur golfers want and need in their next set of irons!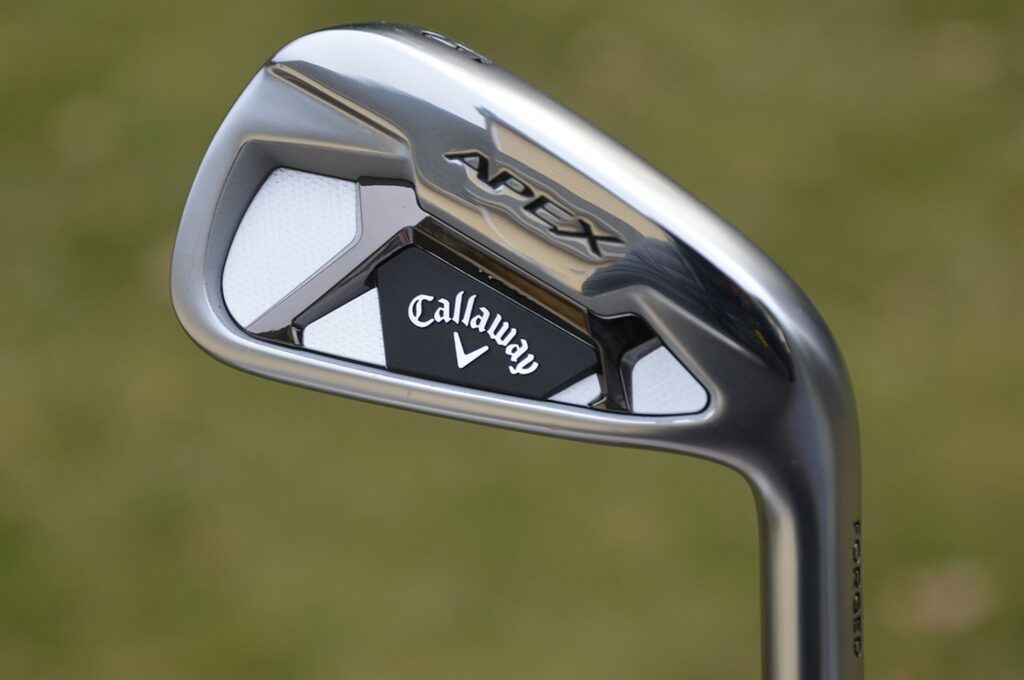 Product Name: Callaway Apex 21 Irons
Price: $1294.99 – $1,479.99
The Place To Buy: Golf Direct Now's Online Superstore
Component Head: Introducing the NEW Callaway Apex 21 Irons. This is an extraordinary level of forged performance and craftsmanship never seen before. It's the first forged iron designed with Artificial Intelligence for faster ball speeds, and that's just the beginning. Callaway's R&D team has improved spin consistency using increased forgiveness from their massive Tungsten Energy Core and enhanced the shaping for even better turf interaction. In addition, Apex delivers a superior performance with an iconic feel on every swing. Tungsten (ranging from 14 to 64 grams) encased in urethane with microspheres (tiny bubbles of air within the urethane) not only helps foster trajectory control but helps allow the face to flex more at impact, too. Also, the amount of tungsten is up to five times the amount found in the previous Apex Irons.
Guarantee: 90 day – 100% Satisfaction Guarantee
Promotion: Free Ground Shipping.
Product Rating: 4.8 out of 5.0
***** Callaway has produced three Apex Irons: the Apex 21, Apex Pro, and the Apex DCB. *****
Features and Benefits – Callaway Apex 21 Irons
Callaway Apex 21 Iron Set
The First Apex 21 Iron Designed With Artificial Intelligence (A.I.) – Callaway's A.I. designed Flash Face Cup is now in a forged iron for the first time ever. The unique Flash Face architecture in each iron creates high ball speeds and increased spin robustness for every club in the set. They're engineered for impressive distance and control.
Consistent Launch and Increased Forgiveness: For the first time, Callaway has implemented its Tungsten Energy Core into an Apex Iron. Also, with up to 64 grams of tungsten per iron, they can precisely position the Center of Gravity to promote outstanding launch throughout the set and more forgiveness on off-center shots.
Forged Blade Feel In A Player's Distance Iron: Apex irons are renowned for their pure feel, and Apex '21 is no different. The forged 1025 mild carbon steel and Callaway's patented urethane microspheres deliver exceptional sound and feel at impact. This also improves shaping and helps enhance the feel through the turf.
Callaway Apex Pro Iron Set
The Apex Pro irons, like their predecessors, have a shorter blade length, thinner topline, and less offset than the standard Apex irons. But the 2021 version is very different than last season's Apex Pro. Cosmetically, they have a more sophisticated look. They were designed to appeal to better players, and the most significant difference is Callaway made the new Apex Pro hollow. Also, this should help the forged, artificial intelligence-designed cup faces flex more efficiently to create more ball speed.
Callaway Apex DCB Iron Set
For golfers who have admired the feel of the Apex irons but need more forgiveness, Callaway is offering the Apex DCB, which stands for deep cavity back. Like the Apex and Apex Pro, it is forged from 1025 carbon steel for a soft feel and has artificial intelligence-designed faces and the Tungsten Energy Core system. However, for less skilled golfers, the Apex DCB has a wider sole and a thicker topline with more offset. In addition, the lofts are stronger, but Callaway said golfers can still hit their iron shots higher into the air because the center of gravity location is so low and back, away from the cup face.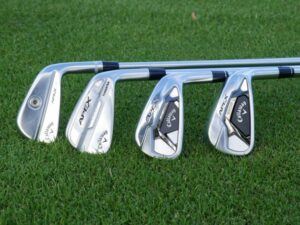 Product Specs – Callaway Apex 21 Iron Set
| | | | | | |
| --- | --- | --- | --- | --- | --- |
| Club # | Loft | Lie | Offset | Length | Swing Weight |
| 3 | 19º | 60º | 0.2″ | 39″ | D2 |
| 4 | 21º | 60.5º | 0.18″ | 38.5″ | D2 |
| 5 | 23.5º | 61º | 0.16″ | 38″ | D2 |
| 6 | 26.5º | 61.5º | 0.14″ | 37.5″ | D2 |
| 7 | 30.5º | 62º | 0.12″ | 37″ | D2 |
| 8 | 34.5º | 62.5º | 0.11″ | 36.5″ | D2 |
| 9 | 38.5º | 63º | 0.105″ | 36″ | D2 |
| PW | 43º | 63.5º | 0.10″ | 35.75″ | D2 |
| AW | 48º | 63.5º | 0.095″ | 35.5″ | D2 |
Premium Stock Shafts and Grip Options
True Temper Elevate ETS 95 Steel
| Manufacturer | Flex | Shaft Weight | Torque | Kickpoint |
| --- | --- | --- | --- | --- |
| True Temper | Regular | 95 | Low | Low |
| True Temper | Stiff | 95 | Low | Low |
UST Mamiya Recoil Dart 75 Graphite
| Manufacturer | Flex | Shaft Weight | Torque | Kickpoint |
| --- | --- | --- | --- | --- |
| UST | Light | 70 | Low-Mid | Mid |
| UST | Regular | 70 | Low-Mid | Mid |
| UST | Stiff | 70 | Low-Mid | Mid |
"This is what you want in a forged iron.

Everything from the performance to the feel, launch, and control is so dialed in.

It's that good."
Xander Schauffele, PGA Pro
To get these great irons and start improving your game today, Click on the direct link here >

https://www.tkqlhce.com/click-8400904-15438720