The new series PING G425 drivers have something for every golfer. It all begins with the Max model that takes the moment of inertia to all-new levels, creating PING's most forgiving driver ever.  The new PING G425 drivers offer greater stability and performance across its Max, LST, and SFT models.  Further, PING and its G Series continually push the limits of technology, fitting, and forgiveness.  With the new PING G425 drivers, PING is once again offering golfers uncompromising distance, more custom fitting options, and greater stability. 
PING has always had a relentless focus on quality.  It has managed to do this in almost every measurable performance category, including, most notably, stability.  In summary, PING is a big stickler for providing top-quality products.  It certainly shows in its new line of G425 drivers!
In short, if you have been looking for a new driver, you can expect a great return on investment as these drivers perform extremely well! Furthermore, look for them to take your drives to the next level.  These clubheads are matched perfectly with either the Alta CB 55G or the PING Alta Distanza 40g graphite stock shafts.  Stock Grip is the Golf Pride Tour Velvet 360 Lite, with Arccos Smart Caddie Sensor.
Note:  Also, available are the PING Tour 173 65g, the Adila Rogue White 130 Msi 70, and the Mitsubishi Tensei AV Orange 65 shafts.

Product Name:  The PING G425 Max Drivers
Price:  $499.99 (Low Price Guarantee). Exceptional Value!
The Place to Buy:  Worldwide Golf Shops Online Superstore
Component Heads:  PING G425 MAX elevates the moment of inertia to PING's highest level in history.  Forgiveness comes mainly from a 26-gram tungsten movable weight.  This is made possible by weight savings from advancements in the driver's dragonfly crown technology.  On the other hand, the LST model is designed with a pear-shaped, 445cc head to greatly reduce spin.  A certain benefit for faster-swing-speed players.
Most important, a  proprietary T9S+ forged face accelerates face flexing for more distance.  Also, for players who like to play a draw, the draw-biased SFT model (Straight-Flight Technology) is engineered to bring shots back online and into the fairway.  In short, a fixed 23-gram tungsten weight shifts the CG closer to the heel to accentuate the right-to-left shot bend when compared to the G425 Max.
Guarantee:  90 day – 100% Satisfaction Guarantee
Promotion:  Free Ground Shipping. Lowest Price Guarantee
Product Rating:  ***** 5 Star Product *****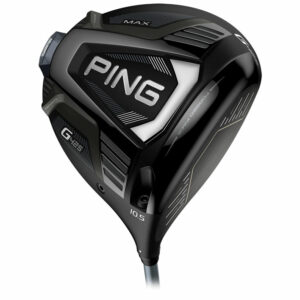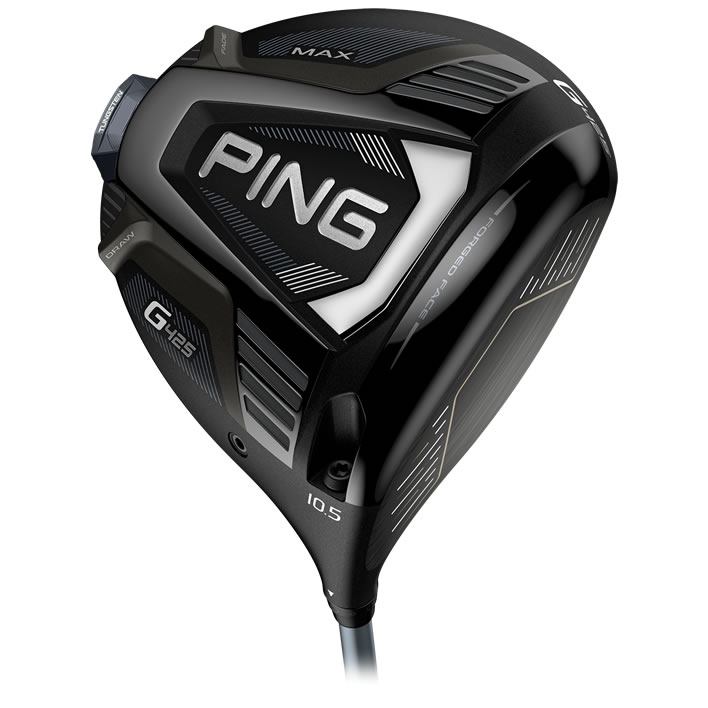 The PING G425 Driver Features:
Cast Ti 8-1-1 body, forged T9S+ face, 460 cc head (Max).


26-Gram movable tungsten weight creates low and back CG for massive MOI and forgiveness.

Also, the rear weight can be secured in neutral, draw, or fade setting to dial in the preferred shot shape.

Extremely lightweight Dragonfly Crown Technology allows PING to strategically move weight low/back.

T9S+ Forged face accelerates face flexing for massive distance.

Further, turbulators reduce aerodynamic drag for increased clubhead speed.

In addition, the internal rib structure improves acoustics for a solid and pleasing sound.
Options for Adjustment:
Loft Options: 9°, 10.5° & 12°.

Loft Adjustability: 0, +1°, +1.5°, -1°, -1.5°.

Lie Adjustability: Up to 3° flatter.

Stock Shafts: PING ALTA CB • PING ALTA Distanza • PING Tour • Mitsubishi Tensei AV Raw Orange • Aldila Rogue White.

Stock Grip:

Golf Pride Lite 360 Tour Velvet with Arccos Smart Caddie Sensor.



The PING G425 Driver Technology
Aerodynamics  –  The PING G425 drivers all feature reconfigured turbulators to improve airflow and help increase aerodynamic efficiency towards impact. The smoother and less disrupted the airflow around an object, the faster it can move.  Also, PING offers a visual aid from the address to help with clubhead alignment.
Note:  According to PING, turbulators are proven to delay flow separation over the driver crown by influencing the behavior of the boundary layer. The quantitative drag measurements indicate a 25-percent reduction in drag for orientations and speeds toward the end of a typical downswing.  This is true with a 100 mph impact clubhead speed."
Dragonfly Crown – Although it's not visible from the exterior of the head, PING's all-titanium crown saves mass.  This is done by removing material from the lowest stress areas and creating a "framed" lattice structure to increase rigidity and lower the club's center of gravity.  The extra mass saved also allows the engineers to reposition it around the head as needed.  This is dependent on the model to control ball flight and boost MOI properties.  PING is staying the course with the all-titanium construction.  Engineers believe it offers the most advanced way to save weight compared to carbon composite.
S 9i + Forged Face Insert – Much like the previous G410 drivers, the G425 models all feature a forged TS 9i+ face insert to increase ball speed.  This is possible because the new + material is stronger and offers 20 percent more stretch and rebound.  This will allow engineers to make the face thinner, improve variable face thickness, and maximize the high COR area around the face.
Rough Face Texture – When most people think about face texture and performance they think of wedges, but with drivers, having a more textured face offers similar performance advantages. By increasing friction on direct strikes (wedges are more of a glancing strike) the forgiveness properties of the driver (bulge and roll paired with MOI) have a greater effect, meaning misses go straighter.
Adjustability

 
Extreme Weighting Properties – This is where everything comes together to make the G425 the fastest and most forgiving drivers Ping have ever made. A gram saved here and a gram saved there all add up to allowing engineers to push more weight low and back into the head. Instead of pushing for low and forward to decrease spin while sacrificing forgiveness, PING goes the other way by pushing lower to decrease spin and build the most stable drivers in golf—truly the benchmark for the rest of the industry.
This also means when it comes to the non-CG adjustable G425 SFT, PING can increase bias in the head further to make it the most anti-fade biased driver the company has built.
Internal Ribbing  – PING engineers developed an internal rib structure in the Ti 8-1-1 body, reinforcing key sections of the head to improve acoustics for a solid, pleasing sound and better feel.
Easy Adjustability – Trajectory Tuning 2.0 utilizes a lightweight, aerodynamic hosel sleeve that provides eight positions to customize your trajectory for maximum distance and accuracy.
Trajectory Tuning Chart  –  The lightweight, 8-position hosel enables adjustments for loft (±1.5°) and lie (3° flatter than std.) to further dial in your ball flight for the best results.
The PING G425 Driver Models
PING G425 – Max Driver

The best way to describe the G425 Max is by calling it the secret love child of the G400 Max and the G410 Plus.  This perspective is relative to both looks and design.  The G400 Max, by all accounts, was a higher MOI driver than the G410.  However,  the G410 Plus allowed fitters to dial in the center of gravity location like never before.  This CG tuning means each driver is more ideally suited to that player.  This leads to tighter dispersion, better strokes gained, and helps lead to lower scores.
The G425 Max is a 460 cc head.  The head features a 26g moveable tungsten weight in the rear.  In comparison, the G400 Max rear non-adjustable weight was 20 grams.  The G410 Plus moveable CG shifter was 16 grams.  This increases the G425 Max's MOI by a very impressive 14 percent.  Also, this still allows the same amount of CG relocation.  In short, this extra mass is how the weight track can offer less movement on the exterior of the head.  This happens while still creating the same level of movement inside the head to create a draw and fade bias.
Availability:  In true PING fashion, the G425 Max is available in both right and left-handed in 9, 10.5, and 12-degree lofts.
PING G425 – LST Driver

The G425 LST (Low Spin Technology) model seems pretty self-explanatory.  However, it's important to help identify its differences and how it can help the golfer looking for additional spin reduction.  With a clubhead of 445 ccs, the LST offers a more pear-shaped profile to appeal to players looking for a more traditional look.  15 cc's were mostly removed from the rear of the head to shorten the driver's front-to-back length.  This will move the center of gravity closer to the face to lower spin—without sacrificing overall MOI as much as possible.
The LST has a 17-gram tungsten CG shifter to help produce a draw, neutral, and fade bias.  In addition,  from a fitting perspective, the LST spins 500-700 RPM less than the G425.  This was proven by PING's internal player testing and 200 RPM less than the previous G410 LST. The 500-700 RPM represents a much greater separation between models versus the G410 Plus driver line.  This means it is easier for golfers to find their ideal fit.
Availability:  The G425 LST is available in both right and left-handed with 9 and 10.5-degree lofts.
PING G425 – SFT Driver

The G425 SFT is officially PING's greatest slice killer to date. Thanks to the fixed heel-biased 23-gram tungsten weight and adjusted head shaping, it offers 10 yards more left bias than the previous G410 SFT.  This produces a whopping 25-plus yards more fade correction than the G425 Max.
Availability:  Much like the Max model, the G425 SFT has a clubhead that comes in at an MOI maximizing 460 ccs.  However, it has just one standard loft of 10.5 degrees in both right and left-handed.
Stock Shafts
The stock shafts are PING's proprietary Alta CB Slate 55.  This shaft comes in soft-regular, regular, stiff, and x-stiff for players with a generally smoother tempo.  On the other hand, PING has 65g, and 75g options, in regular, stiff, and x-stiff.  These are for players with faster tempos and higher swing speeds.  Also, it allows for increased stability and lower spin.
Two new aftermarket options are available.  They include Aldila's Rogue White 130 MSI 70 in regular, stiff, and X.  Also available is Mitsubishi's Tensei AV Raw Orange in regular, stiff, and x-stiff.  These shafts will fit in well to offer a broad-ranging selection to fit almost any golfer's needs.
Stock Grip
The final part of the puzzle is the grip.  The PING G425 drivers will all come stock with a Ping X Arccos GP lite Caddie Smart Grip.  Included is an embedded sensor that automatically records and analyzes every shot when paired with the Arccos Caddie app.  Furthermore, The Caddie Smart Grip is available in Aqua (-1/64″) undersized, White -standard, and Gold (+1/32″) oversized.